Here's An Optional Way To Build Your Business --- Get Your Own Customized Referral Website and use it with my Advertising Toolkit.
By placing special ads on the internet and in print publications, your prospects will read your ad and then go to your referral website.
Your ads will include your own website address (URL). The important reason for using your own website is so your prospects will be sure to write down your very important ID Number...so they'll join the business using your ID Number.
You do not want to place your ID# in advertisements because your prospects will lose your ID Number.
HOWEVER, your prospects WILL write down Your ID# when they see your website, and then they will click the link at the bottom to go to my website.
After they go to my website, they will automatically be sold on joining the business under you.
Having your own Referral Website gives you flexibility with using different types of marketing methods. But, this is completely optional.
Because I have to spend time and effort setting up and preparing your custom website, I charge a one-time fee of $100.
The $100 one-time fee includes: (1) the creation of your own website, (2) hosting of your website on my web space for an UNLIMITED TIME PERIOD, and (3) use the Referral Website with my powerful ADVERTISING TOOLKIT.
Along with the main Referral Website, you'll also get ALL of the specific Presell Websites for each of the other businesses. That's right! For the
one-time cost of $100, you'll get
ALL Presell Websites that you may need...now, or in the future.
If you would like to have your own Referral Website, then click below to go to my Order Webpage. Thank You!

Order Now and Download Instantly...
Yes Doyle! I'm ready to start building a strong income with my own Referral Website. I have read and agree to the purchase agreement and legal disclaimers shown at the bottom of this website.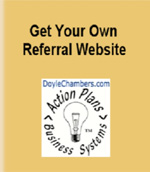 Item #: referralwebsite
Price: $100.00
All Major Credit and Debit Cards Accepted

ORDER ONLINE BY SAFE, SECURE SERVER
I take all the steps necessary to ensure that all of your personal information passes through our ultra secure order form. Please order with the confidence of knowing all your information will be kept confidential and protected. This Shopping Cart System uses 128 bit SSL Secure Servers for Safe and Secure Shopping. Privacy Guaranteed.
Doyle Chambers
972-635-9407